Gutter Cleaning & Roof Tune-Up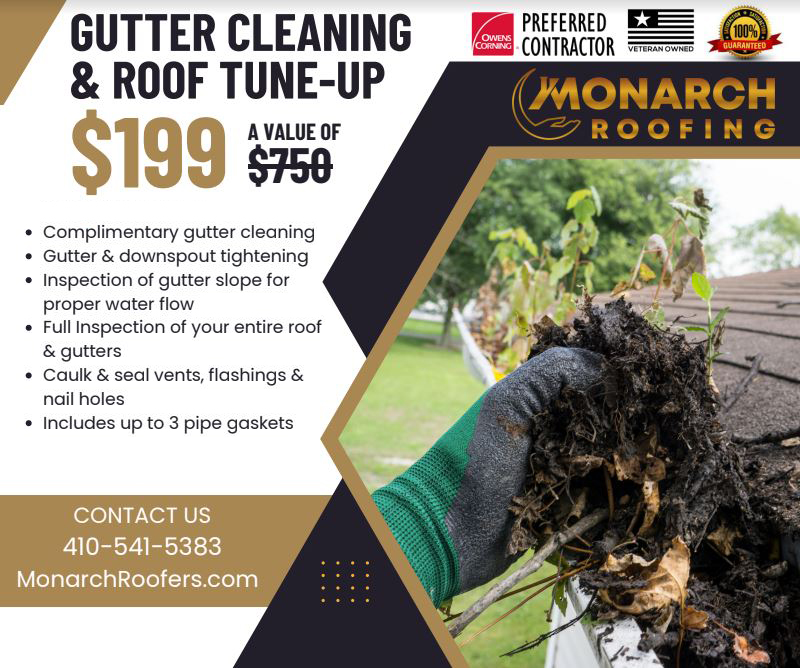 Your needs, our solutions.
Stay proactive in avoiding costly home repairs by taking advantage of Monarch Roofing's Gutter Cleaning & Roof Tune-Up for just $199.
$199 ROOF & GUTTER TUNE-UP
Assessing the extent of wear and tear on your roof accumulated over the years can be a challenging task. Frequently, a regular maintenance check for your roof and gutters may be all that's necessary, instead of a complete replacement. Our Roof & Gutter Tune-Up, originally valued at $750, is now available for just $199. This service, performed by our skilled Roof Technicians, offers homeowners a prompt solution for their roofing and gutter concerns, along with a photographic report detailing the roof's current state.
SCHEDULE NOW
INCLUDED IN OUR ROOF & GUTTER TUNE-UP SERVICE:
ROOF TUNE-UP WORK ($500 Value)
Repairs of Deteriorated Pipe Gaskets
Repairs of Exposed Nail Heads ("Nail Pops")
Caulking and Sealing of All Vents, Flashings and Nail Holes
Tightening of Loose Shingles
Recommendation of any future maintenance or repairs
GUTTER TUNE-UP WORK ($350 Value)
Complimentary Gutter Cleaning
Tightening your Gutters Using Existing Fasteners
Tightening your Downspouts using Existing Fasteners and Brackets
Inspecting the Slope of your Gutters for Proper Water Flow
Visual Inspecting Ground Drainage and Run-Off
As part of the $199 Roof & Gutter Tune-Up, our Roofing & Gutter Technician will conduct a comprehensive examination of your entire roof and gutters. This includes capturing before and after photographs, accompanied by supplementary notes for clarification.
Preparation:
Before your scheduled roof and gutter tune-up, we kindly request that you relocate any vehicles, outdoor furniture, or valuables away from your home to prevent debris from falling onto them.
If you desire an attic inspection, kindly create a clear pathway to your home's attic hatch.
To achieve optimal results, we recommend that you plan to be present at your scheduled Tune-Up appointment time. If this is not possible, we advise having a phone available for communication.
Roof & Gutter Tune-Up Policies:
All Work is Weather Permitting
The $199 price is exclusively applicable to residential buildings and excludes any structures separate from the primary residence.
Price is Valid for Asphalt Shingles Roof Only
Gutter cleaning service will be performed using a blower to remove debris, ensuring that it is cleared away from the surrounding landscape.
All services must be utilized within one visit and by the same household.
We will perform all work to the best of our capabilities during the service. Please note that a $75 trip charge may be incurred for any necessary follow-up visits.
Payment is due one business day before your scheduled appointment. Please be aware of our merchant's cancellation and rescheduling policy, which requires a minimum of 24 hours' notice to avoid forfeiture of your voucher. A $199 fee will apply for appointments canceled after 3:00pm on the business day preceding the scheduled appointment.
There are no expressed or implied warranties for the maintenance tune-up.
All services covered by the voucher must be utilized in a single visit and by the same household.
Extra fees will be incurred for the use of a 40-foot ladder, ladder pulling, the GOAT system, or additional harness anchor points.